News
We're proud to report that Jeb Dunnuck, most recently of the Wine Advocate, has reviewed our wines in a most complimentary fashion. Published summer, 2017:
2014 Editor: 92 POINTS - The 2014 Editor is a beautiful blend of Grenache, Syrah, Zinfandel, and Petite Sirah that has tons of Grenache charm and character. Black raspberries, herbes de Provence, dried flowers and spice aromas and flavors all give way to a ripe, medium to full-bodied, textured wine that scores incredibly high on balance and drinkability. Drink it over the coming 7-8 years.
2014 Laity: 92 POINTS - Inky colored, the 2014 Laity is 75% Syrah, 22% Grenache and 3% Petite Syrah aged 28 months in 40% new French oak. Fresh plum, blueberry, incense, loads of spice and hints of violets all emerge from this ripe, sexy, beautifully made Syrah. It's well worth checking out.
2014 Monsignor: 90 POINTS - Another inky colored wine (Petite Sirah never lacks for color), the 2014 Monsignor (mostly Petite Sirah with 11% Zinfandel and 5% Grenache) spent 28 months in 40% new French oak. It's a juicy, lively red that has tons of black fruits, violets, exotic spice and hints of lead pencil aromas and flavors. It's a solid expression of this variety, has good acidity, lots of fruit and ripe tannin. It's a perfect steak house wine.
For more information on Jeb Dunnuck, or to subscribe to his newsletter, visit www.jebdunnuck.com.
##
Josh Raynolds, from Vinous, published reviews for Guyomar's 2012 releases in the summer, 2015:
2012 Laity, 91 points
Bright purple. Assertive scents of cherry compote, dark berry liqueur, woodsmoke and vanilla, along with a spicy overtone. Fleshy and open-knit, offering broad, palate-coating black and blue fruit and mocha flavors and a touch of spicecake. Supple tannins come up late and add shape to the long, smoky finish, which leaves a sweet dark berry note behind. Drink 2018-2024.
2012 Monsignor, 92 points
Inky ruby. Lush cherry, cassis and violet scents on the deeply perfumed nose and palate. Supple and broad, with spice and mineral elements adding back-end cut and lift. Finishes sweet, velvety and very long, with excellent clarity and smooth, easygoing tannins. Drink 2019-2025
2012 Oblate, 90 points
Glass-staining ruby. Deeply pitched red and dark berry aromas are clarified and lifted by a mineral quality. Smooth and sappy on the palate, offering sweet black raspberry and floral pastille flavors, with a hint of white pepper adding bite. Dusty tannins build slowly on the finish, which lingers with very good tenacity and repeating florality. Drink 2017-2023.
##
Wine Enthusiast On-line reviewed Laity July, 2015:
91 points. This blend of 42% Syrah, 31% Petite Sirah, 20% Zinfandel and 7% Grenache from the Templeton Gap area shows aromas of grape soda, pencil lead, sweet violets and effervescent cola, all fun yet elegantly restrained. Blueberry, black pepper and fresh purple fruit combine for a very lively wine, with strong acidity on the palate.
— M.K. (7/1/2015)--
##
Guyomar's wines have been selected for inclusion as part of Winestyr's curated selection of the country's best small-production wines. Guyomar's Laity has also been selected as a club selection for Winestyr's new wine clubs. You can check out our wines on Winestyr here: https://www.winestyr.com
##
Wine Life in the SCV. Articles about wine, wineries and wine events.
Posted: December 10, 2014
http://winelifeinthescv.blogspot.com/2014/12/guyomar-wine-cellars-journey-from-vine.html
##
Huffington Post:
Posted: December 8, 2014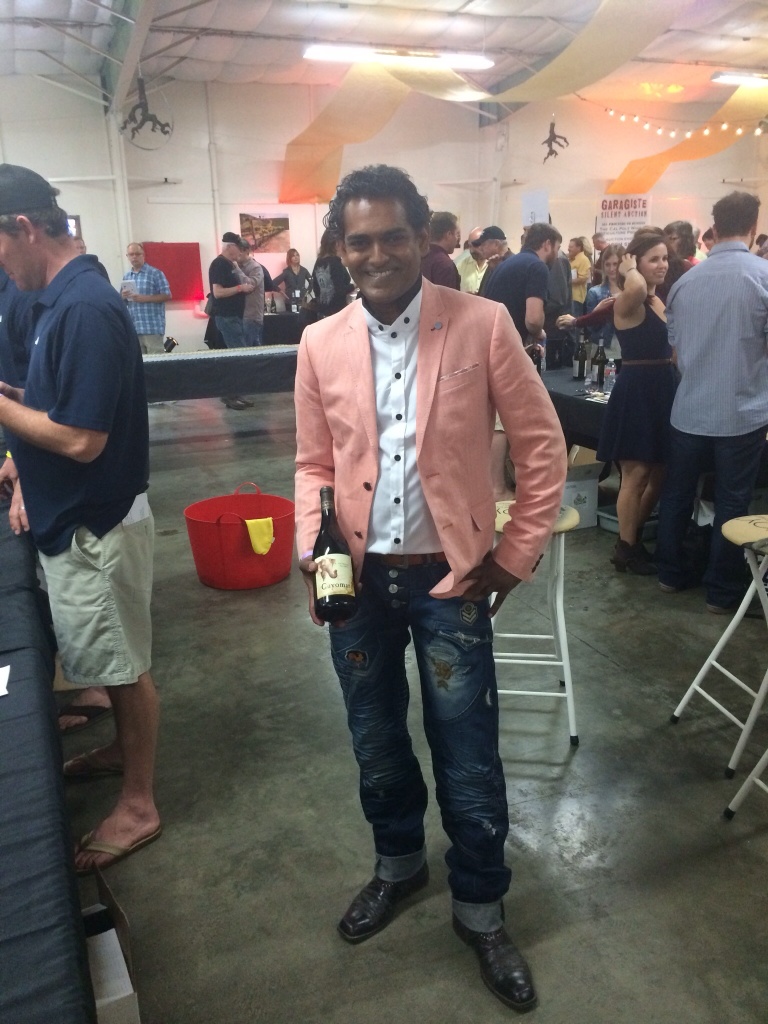 The WineFashionista award for best dressed vintner goes to Ishka Stanislaus of Guyomar Wine Cellars. He wore a daring light pink blazer with ripped and faded jeans. What drew me in was the label - an elephant and I adore elephants. What kept me there was the quality of the wines.
Ishka says the elephant represents a noble tradition and deep family ties. While he was born in Sri Lanka he grew up in New York City then moved to California with his wife. He comes from a family of farmers so it was a natural to plant grapes in his new home.
Many of his vines are head trained and the vineyards are dry farmed. Across the board the wines have structure and elegance, and they are earthy. Monsignor is a delicious blend of Petite Sirah, Zinfandel, Syrah and Grenache. Laity is a beautiful Syrah, Grenache, Petite Sirah and Zinfandel Blend. These are interesting wines, in blends I don't think I've seen before. For a first release from this winery, I'd say they are on the right track. 400 cases.
##
FRENCH FRIDAYS: Tartine De Viande Des Grisons
http://lightsonbrightnobrakes.com/french-fridays-tartine-de-viande-des-grisons/
##
15 Bold California Reds
New reviews of Petite Sirah and blends
Aaron Romano
Posted: October 13, 2014, Wine Spectator On-Line
Tasting Highlights bring the best wines from our editors' most recent tastings to WineSpectator.com members.

The days are getting shorter and the nights a little colder, so this week's list showcases a selection of hearty Petite Sirahs to seek out in the winter months ahead.

GUYOMAR Monsignor Paso Robles 2010 | The fleshy, ripe wild berry flavors have terrific concentration and purity, accented by thyme, cedar, sarsaparilla and spice notes, with thick, velvety tannins and mineral details on the finish. Petite Sirah, Zinfandel, Syrah and Grenache. Drink now through 2025. 125 cases made. —M.W.
##
Santa Maria Sun, 2014, Wendy Thies Sell
Guyomar Wine Cellars in the Templeton Gap poured its first vintage at the festival: three impressive red blends made by respected winemaker Steve Glossner. The complex "Monsignor" ($52) is a blend of petite sirah, zinfandel, syrah, and grenache. The label is striking. "The elephant on the label was created to reflect our Asian heritage, but also the importance of family," explained co-proprietor Mareeni Stanislaus, M.D., a Templeton OB/GYN. "Elephants are a matriarchal society; they don't forget easily. We take care of our own, and understand the importance of family and developing a business and a brand and a life." Production amount: 375 cases. Winery website: guyomarwine.com.
##
"On Feb. 16 over 600 people from all over the State joined 50 of the most outstanding Rhone wine producers in Paso Robles. Three of the wineries that put there best bottles to the taste test were Guyomar Wine Cellars, a new small-lot producer that originally opened as a grape producer, Kukkula, another outstanding small-lot producer, and the host Broken Earth, a larger-scale producer when compared to the previous two.
These three seemed to standout in the eyes of many of the patrons tasting. This is an event geared for everyone to enjoy and learn." -- Paso Robles Press, 2/22/14
##
We're proud to announce that the Paso Robles wine region was just named "Wine Region of the Year" by one of the world renowned Wine Enthusiast Magazine. Read the article at http://www.winemag.com/Web-2013/2013-Wine-Region-of-the-Year-Paso-Robles/.
##