Richard Sauret, Vineyard Consultant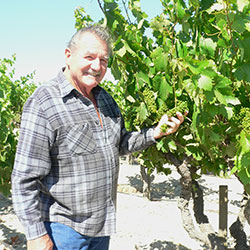 Richard Sauret began his education in viticulture in 1942. At the age of 7 he was picking grapes, pruning vines, and pulling weeds to help pay for his school clothes. At 17, he convinced his father to pull up almond trees, and planted his first vines, zinfandel, five miles northwest of the town of Paso Robles. At that time there were only about 200 acres of grapes planted in the Paso Robles American Viticultural Area (there are currently over 26,000), all head-trained zinfandel, and only four wineries.
Over the years his fruit went into some of the wines that were at the forefront of Paso Robles winery history, the old Rotta Winery, and very notably, HMR (Hoffman Mountain Ranch). André Tchelistcheff, known as the "Dean of American Winemakers," and generally accepted as the most influential winemaker in American history, told Richard, "If you keep growing grapes like these, you'll never have to worry." Tchelistcheff, who consulted for premier wineries all over the state, asked if HMR could "Vineyard Designate" the Sauret fruit and that was the beginning of "Sauret" designated wine labels.
Richard's 2002 and 2003 Rosenblum Zinfandels were ranked in Wine Spectator's Top 100 wines of the year, he was featured in American Vineyard Magazine in 2006, and he was honored twice by California Mid State Fair as the Grower of the Year. Richard Sauret is truly one of the fathers of the Paso Robles wine industry.
Ishka Stanislaus was at a party at his real estate agent's office, when his real estate agent pointed out Richard Sauret as the guy that Ishka needed to meet. They quickly hit it off, and Richard helped Ishka lay out the vineyard and has shared the benefit of his last 60 years' grape growing ever since. The two have the utmost mutual respect, as well as a shared respect for the land, and together have created one of Paso Robles' premier vineyards, Alcantara Vineyard.
Competent authority, mentor and guru.
Steward of a tradition.
Dry farmed Zinfandel
Richard Kent Sauret 1935-2017