Steve Glossner, Winemaker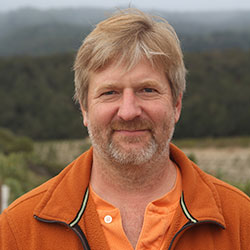 The Stanislaus' have been long-time friends with Steve Glossner and have closely watched and admired his talents and career. The Stanislaus' feel fortunate to have Glossner on the team for their winemaking journey.
A veteran winemaker of the Paso Robles area, Steve Glossner has earned a well-deserved reputation for making wines of specific character and quality. Today, in an era of ripe, soft, fruit-forward California winemaking, Glossner has stayed closer to a more fundamental model where balance, complexity and age-worthiness are the goals for wines made from vineyard sources possessing their own unique and individual characteristics.
Glossner's first exposure to the wine industry began simply enough, where he often visited the wineries of the Finger Lakes region in upstate New York while completing a business degree from Cornell University. With his curiosity piqued, he found himself a retail sales position at a fine wine shop in Western New York, and through the owners' willing and generous tutorship, Steve discovered the "World of Wine." In 1988 he moved to California with dreams of becoming a winemaker.
His career began modestly, working harvest, cellar and tasting room positions at various wineries in Sonoma County, and then a harvest season spent in New Zealand. Upon returning he began a program of graduate study in enology at CSU, Fresno. There, he became familiar with the Paso Robles winegrowing area through his studies, work and research, and, in 1993, made the decision to make a permanent move to the region.
The following year, Glossner became the winemaker for Justin Vineyards and Winery and produced the 1994 Isosceles, which was awarded the prestigious international Pichon Longueville Comtesse de Lalande Trophy for the "best blended red wine." In 1997 he made the base wine components which would become the 1997 Justin Isosceles, rated as one of the top 100 wines by the Wine Spectator in 2000.
Further winemaking posts at Adelaida Cellars and Halter Ranch cemented his strong belief in the uniqueness and inherent quality potential of grapes grown on the calcareous soils of the western, foothill region of the Paso Robles appellation. Today, Steve continues to work closely with a few consulting clients, including Guyomar Wine Cellars, providing expert winemaking services for their bourgeoning brands. His other principal occupation is crafting unique Port-style wines, along with his wife Lola, and nurturing their own fledgling wine brand, PasoPort Wine Company. "It's been an interesting journey," reflects Steve, "but I can't say I would trade it for anything else by the same token." From a sampling of his wines, we think you would agree.